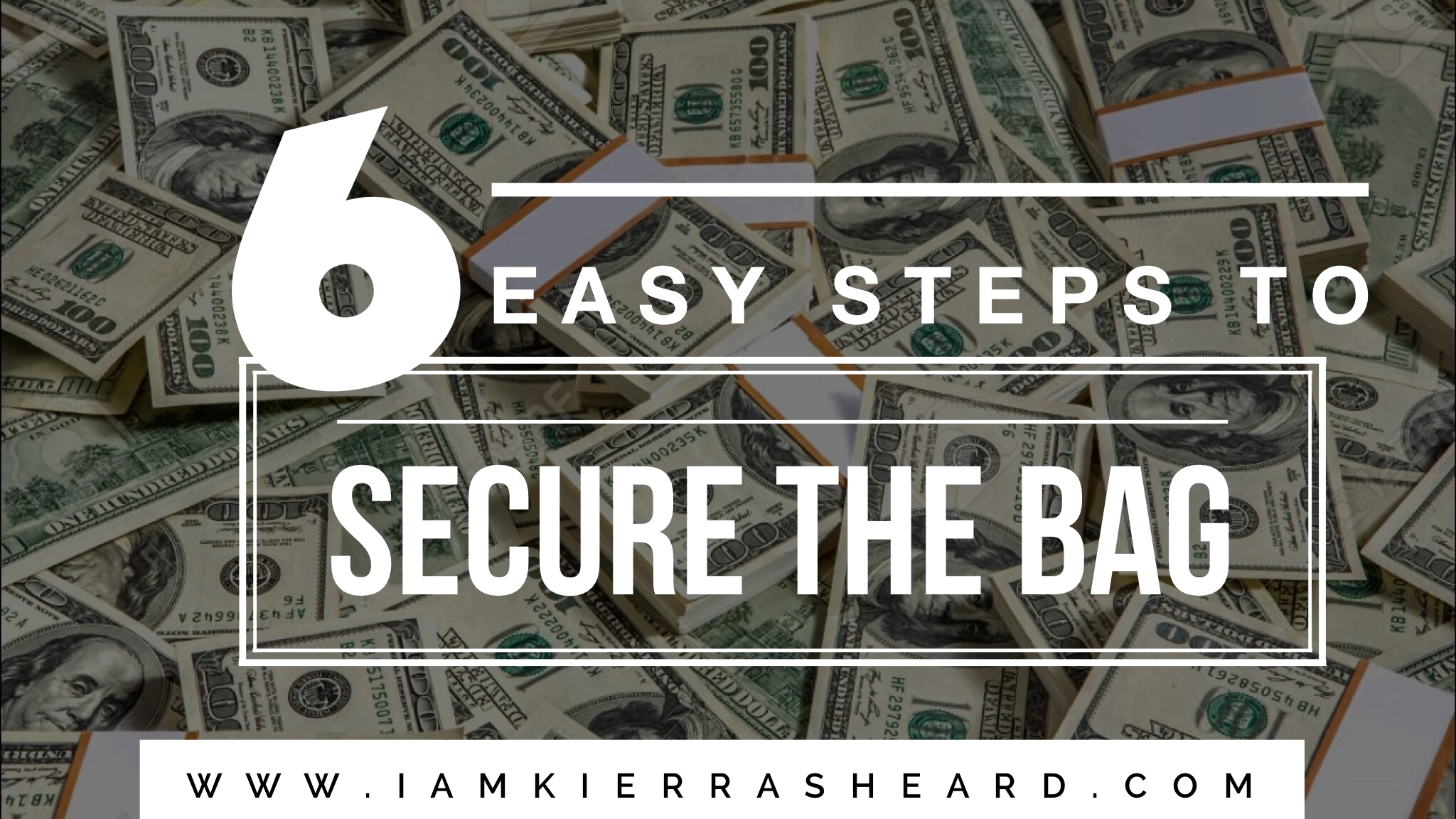 1. Pay Yourself (Ecc. 5:18-20)
Commit to paying yourself per week. Start an account that you will not touch and pay this account like it's rent or a mortgage. No activity. Don't touch it. It can be as small as 10-20 dollars per week or a month! We all know the bigger the better. Have the discipline to treat yourself. My grandfather once told me that if i get a dollar i should always keep a quarter. Don't spend everything you have! We should all have an emergency fund. Do you have one? If your answer is no, then you should start an account TODAY and try his method! Thank me later.
2. Play Broke & Learn To Say No (Psalm 128:2)
Just because you have it for yourself doesn't mean you have it for everyone else. As a single woman, I've gracefully accepted the title of being a single woman. I don't have it because I'm all by myself honey! I need every pinch of change. If someone wants to treat you, accept the offer. Just because you have it, doesn't mean you have to spend it. Learn to accept the blessings. Don't be "leechy" but accept the generosity. A large percentage of Americans uses about 40-60% of their income on eating out. During my SistHER mentorship, I told my mentees (SistHERs), "If you really wanna go out, grab a saucer and just ask everybody at the table if you can taste what they have." You will have had a full entree with no bill! 😉
3. Cash Envelope System
Leave the credit cards at the crib! Leave the debit card too. Only take cash for the day. Give yourself a budget and only have it in cash! I repeat, "only have it in cash!" If you have no more cash for the day, then you're done. That's it. Take yo' tail back home, rest your feet, and eat some chips. Act like a college student.
4. Invest
Invest in a mutual fund or a certificate of deposit. Find other ways to store your money, other than our local banks. To see that we can find higher interest on what's being saved, is a better way of living.
5. Adapt A New Mentality. Leave a legacy!
Age has nothing to do with this. If you're 15 or 45 and you want to start up a business these tips are for you. A lot of young people have vision and don't know where to start. I've seen so many young people with a great gift and it goes toward the streets (Proverbs 13:11) because they didn't know where to start with their gifts of flipping and saving money. Don't run through money like water. Don't be okay with growing a life having to worry about money. Invest in life insurance. God forbid, but when it's time, let your loved ones grieve properly not having to do go fund me accounts. Go over how much money you spend on a habit. Weed, alcohol, shopping, etc. how much money could you have saved? Evaluate how good of a manager you've been so far. Pay people their money back. Don't keep digging holes of having to owe people money. You already have bills to pay, and so do they! (Romans 13:8/ Proverbs 22:26-27)
6. Honor God with What You Have (Luke 18:12)
Last but not least, honor God with your increase (Proverbs 3:9). Sometimes we often feel like we have a hole in our pockets because we aren't honest with our money. We don't give God his tenth. So, he makes sure he's securing his bag too. LOL (Malachi 3:8-10) In what ways, are we investing it back into the kingdom or honoring God with what he has given us. I'm a cheerful giver and so give to others. (2 Corinthians 9:7) I give to my home church and other ministries that have blessed me to advance the kingdom in hopes to extend their reach. I pay my tithe and I've never cried broke in addition to being a good manager of my money.
I'll share more tips on how i saved my first 100k in my early 20's in the next blog and YouTube channel. It's time to save. Some of us are posting the good life on social media while crying broke behind the screens and filters. Save some money aside so that you can see the world and enjoy the fruits of your labor. You work hard, you should play hard to. Or maybe you'd like to start a business, buy a home, or whatever it is. You must secure the bag in order to take steps. Truth be told, financial stability often allows us to be at peace mentally and physically. Secure the bag so that maybe you can get away!
Read More